Empty Bottles
Displaying 1 to 3 of 3 products
PART #B1/2-T
Need are replacement bottle for your large bottle of black? Or for a ink bottle that just need replacing? We offer empty ink bottles in 4 different sizes: 1/2, 1, 2, & 4 ounce bottles.
Read More...
AVALIBILITY: In Stock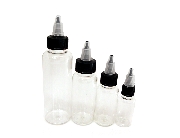 PART #B8-T
We now offer a Large 8-oz empty ink bottle. The empty bottle is soft and easy to squeeze. The bottle also includes a twist top.
Read More...
AVALIBILITY: Out of Stock