Machine Cases
Displaying 1 to 2 of 2 products
PART #TA-CASE-BIG
This lightweight thin Tattoo Machine case hold 9 machines comfortably and 12 machines tightly. Weights about 2lbs and must have for every artist
Read More...
AVALIBILITY: Out of Stock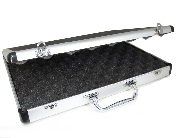 PART #GUN CASE
Aluminum tattoo machine case. Holds 1 tattoo machine. 4.4" (L) x 4.4" (W) x 2.3" (H)
Read More...
AVALIBILITY: In Stock