Lamps
Displaying 1 to 3 of 3 products
PART #TATTECH-LAMP
Just tap to turn your light off and on. This lamp is has a light bar that has 42 bright LED lights.
Read More...
AVALIBILITY: In Stock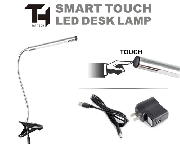 PART #LAMP
This lamp uses a Fluorescent Full Spectrum FML 27 Watt Light Bulb. This bulb simulates natural Sunlight. Helps reduce eye strain, glare, fatigue caused by low/bad lighting.
Read More...
AVALIBILITY: In Stock